Here's what's on KSKQ this week:
Green Show Show, Thursday, July 28 @ 10:30 am. Join host Steven Sapp of Universes for an encore conversation with Christiana Clark and the collaborators of Juneteenth, a celebration brought to us by OSF's Community Productions, THAT WAS THEN, THEN IS NOW
Regina Ayars and Carol Voisin, producers of Girl Talk since April 2013, are local "girls" who decided that women and men needed some good old 60's "conscientiousness raising". Each week they bring their own brand of feminism to the airwaves. They come together each week with slightly different perspectives - Carol more alternative and edgy and Regina more traditional and data driven - but always focused on women, their achievements, and their struggles.

Regina Ayars has lived in Ashland for the last thirteen years serving on boards for many local non-profits like League of Women Voters, Peace House, Rose Circle Network, American Association of University Women, Options for Homeless Residents of Ashland.  She currently serves on the Ashland Housing and Human Services Commission. Carol Voisin is a professor at Southern Oregon University, teaching Ethics in the 21st Century, and is an Ashland City Councilor, serving her second term.

Girl Talk can be heard live every Sunday from Noon till 12:30 p.m. Archived programs are also available.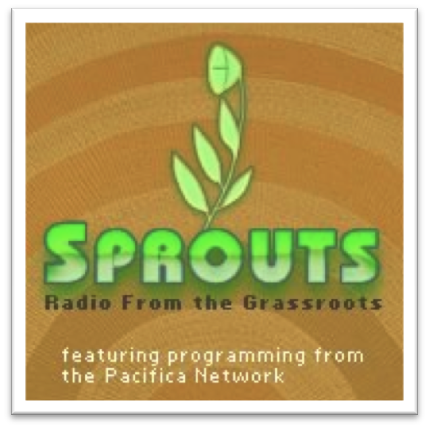 Sprouts is a weekly program that features local radio production and stories from many radio stations and local media groups worldwide. It is produced in collaboration with community radio stations and independent producers across the country.
Every week Sprouts broadcasts stories from local communities with national significance. The features are produced independently, but are generally tied by a common theme. Sprout's mission is to bring new voices to the airwaves, increase communication between this larger community of media producers of conscience, and encourage production collaboration across geographical distances via the Internet. The producers aim to bring unique voices from many individual parts of the country, joined together within the context of issues of national scope. They always welcome new members and provide support for to them via conference calls and other forms of communication. They seek diverse voices and viewpoints, new producers coming to the air, and the unique viewpoints from local areas.
The program is coordinated and distributed by Pacifica Radio and offered free of charge to all radio stations. For information, or if you would like to feature your work on Sprouts, contact Ursula Ruedenberg at This email address is being protected from spambots. You need JavaScript enabled to view it.
Sprouts is broadcast every Monday, 10-10:30 am.