Latitude 42 north, the forty-second parallel, isn't just another line on the globe. It the line that links Ashland to many fabled places. Think Spain, Corsica, Macedonia, Turkey, Georgia (the country), Turkmenistan, Uzbekistan, Inner Mongolia, the Japanese island of Hokkaido--amazingly diverse places. So it should only be proper that KSKQ has a radio show called Latitude 42, to capture the diversity of our community and music. There is not fixed musical genre, no fixed format. Latitude 42 is an easygoing, flexible, drive-home-for-the-weekend show that samples the 56,000 plus songs in the KSKQ music library, brings you interviews with great folks from Ashland, or visiting travelers who've stopped at our parallel.
All this is brought to you by Carson Bench, whose attitude is just right for this latitude. A radio volunteer for that past fourteen years, Carson got his start in Point Reyes Station, California at KWMR before they were even on the air. Doing two to three shows a week and participating in the development of that station, he was able to see it grow and become an institution woven into the fabric of the West Marin community. After eight years of involvement and service he moved to Southern Utah where he happened upon KTIM, a brand new, just barely on the air community radio station. While there he helped KTIM acquire more music and did a few shows a week. After eleven months in Southern Utah it became evident that life would be a little more pleasant elsewhere. On June 1st of 2007 Carson landed in the Rogue Valley and miraculously on that same day found KSKQ, a brand new station and not even on the air yet. Carson has been instrumental in the development of this community radio station. A never tiring advocate for the station, he now serves as the program director.
Tune in every Friday from 4 to 6pm and ease into the weekend.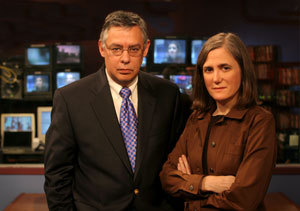 Democracy Now! is a national, daily, independent, award-winning news program hosted by journalists Amy Goodman and Juan Gonzalez.
Democracy Now!'s War and Peace Report provides the audience with access to people and perspectives rarely heard in the U.S.corporate-sponsored media, including independent and international journalists, ordinary people from around the world who are directly affected by U.S. foreign policy, grassroots leaders and peace activists, artists, academics and independent analysts. In addition, Democracy Now! hosts real debates–debates between people who substantially disagree, such as between the White House or the Pentagon spokespeople on the one hand, and grassroots activists on the other.
For true democracy to work, people need easy access to independent, diverse sources of news and information.
But the last two decades have seen unprecedented corporate media consolidation. The U.S. media was already fairly homogeneous in the early 1980s: some fifty media conglomerates dominated all media outlets, including television, radio, newspapers, magazines, music, publishing and film. In the year 2000, just six corporations dominated the U.S. media.
In addition, corporate media outlets in the U.S. are legally responsible to their shareholders to maximize profits.
Democracy Now! is funded entirely through contributions from listeners, viewers, and foundations. The show does not accept advertisers, corporate underwriting, or government funding. This allows them to maintain their independence.
Democracy Now! is broadcast on KSKQ Mondays - Fridays at 12 noon.