Regina Ayars and Carol Voisin, producers of Girl Talk since April 2013, are local "girls" who decided that women and men needed some good old 60's "conscientiousness raising". Each week they bring their own brand of feminism to the airwaves. They come together each week with slightly different perspectives - Carol more alternative and edgy and Regina more traditional and data driven - but always focused on women, their achievements, and their struggles.

Regina Ayars has lived in Ashland for the last thirteen years serving on boards for many local non-profits like League of Women Voters, Peace House, Rose Circle Network, American Association of University Women, Options for Homeless Residents of Ashland.  She currently serves on the Ashland Housing and Human Services Commission. Carol Voisin is a professor at Southern Oregon University, teaching Ethics in the 21st Century, and is an Ashland City Councilor, serving her second term.

Girl Talk can be heard live every Sunday from Noon till 12:30 p.m. Archived programs are also available.
The dictionary tells us that a jamboree is any noisy merrymaking. Jupiter's Jamboree makes every effort to live up to that definition. Jupiter Hamilton creates a show combining classic and contemporary jam bands, local original music, live experimental music, poetry, interviews with guests and philosophic musings about the cosmic web of sound. The unexpected and expected dwell side by side in Jupiter Jamboree land. It's a sonic vision of a post-genre utopia.
Catch Jupiter's Jamboree Saturday nights from 8 - 10 pm.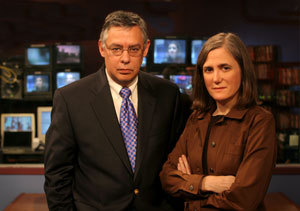 Democracy Now! is a national, daily, independent, award-winning news program hosted by journalists Amy Goodman and Juan Gonzalez.
Democracy Now!'s War and Peace Report provides the audience with access to people and perspectives rarely heard in the U.S.corporate-sponsored media, including independent and international journalists, ordinary people from around the world who are directly affected by U.S. foreign policy, grassroots leaders and peace activists, artists, academics and independent analysts. In addition, Democracy Now! hosts real debates–debates between people who substantially disagree, such as between the White House or the Pentagon spokespeople on the one hand, and grassroots activists on the other.
For true democracy to work, people need easy access to independent, diverse sources of news and information.
But the last two decades have seen unprecedented corporate media consolidation. The U.S. media was already fairly homogeneous in the early 1980s: some fifty media conglomerates dominated all media outlets, including television, radio, newspapers, magazines, music, publishing and film. In the year 2000, just six corporations dominated the U.S. media.
In addition, corporate media outlets in the U.S. are legally responsible to their shareholders to maximize profits.
Democracy Now! is funded entirely through contributions from listeners, viewers, and foundations. The show does not accept advertisers, corporate underwriting, or government funding. This allows them to maintain their independence.
Democracy Now! is broadcast on KSKQ Mondays - Fridays at 12 noon.