Here's what's happening on KSKQ this week:
The Green Show Show, Wednesday, Oct. 7 @ 10 am. Scienceworks' Executive Director, Chip Lindsey will be our guest on the KSKQ Green Show Show. He'll provide a sneak preview to the hands-on demonstrations on the Green Show stage on Wednesday, October 7th, 6:45 p.m.
Mixed Mediums, Tuesday, Oct. 6 @ 4pm. Holly will interview John Molo of Moonalice. Moonalice will open for the Dave Nelson Band at the Applegate River Lodge on Oct. 7 and 8. Tune in around 5pm to hear the interview.
AntipoDee is proud to host a 3 part Afro-Brazilian music series Fridays  10/9, 10/16 and 10/23 from 7-9pm, right before Reggae Rob's eponymous dub delight. This special show visits a deep musical experience;  featuring Bossa Nova, Samba,  Candomble and Capoeira, Reggae, Batucada, Funk, Latin-jazz and more...
The first show features talented guest Luan Rasta, Brazilian music specialist.

Luan Rasta is a vocalist, percussionist and co-founder of reggae group FumaSound. He is a native of the city of Salvador, Bahia, in northern Brazil, one of the richest musical crucibles in the world.

FumaSound started at the end of 2009 in Salvador, in a community known as Baixa do Tubo in the neighborhood of Cosme de Farias.  The group was co-founded  by Leo Roots, J-FyaSelecta and Gabriel 'Gordo'.  


The band created music influenced by new styles in Jamaican reggae roots, new roots, ragamuffin, and rap.  Molded by Salvador's Sound System culture (an alternative music scene created by Salvador's group 'Ministerio Publico Sistema de Som Perambulante') , FumaSound adopted the format of the groups of Sound System Jamaican, created by MCs 'Mestres de Cerimonia' whose DJs represent the band, producing and performing Riddims, processing effects and samples.

FumaSound is working to release their first disc named 'Estilo Livre' with 10 audio tracks, including 'Militante da Palavra' ft. MC Macedo, 'Queima Babilonia', 'Estilo Livre', 'Busque a 'Paz de Jah', 'Salvador Cidade Desespero', and a bonus track O Horto Agora Está Morto' ft. MC Macedo, MC Kozak, and MC Morris.

Tune in Friday 10/9, 10/16, 10/23 from 7-9 pm.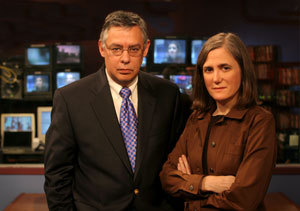 Democracy Now! is a national, daily, independent, award-winning news program hosted by journalists Amy Goodman and Juan Gonzalez.
Democracy Now!'s War and Peace Report provides the audience with access to people and perspectives rarely heard in the U.S.corporate-sponsored media, including independent and international journalists, ordinary people from around the world who are directly affected by U.S. foreign policy, grassroots leaders and peace activists, artists, academics and independent analysts. In addition, Democracy Now! hosts real debates–debates between people who substantially disagree, such as between the White House or the Pentagon spokespeople on the one hand, and grassroots activists on the other.
For true democracy to work, people need easy access to independent, diverse sources of news and information.
But the last two decades have seen unprecedented corporate media consolidation. The U.S. media was already fairly homogeneous in the early 1980s: some fifty media conglomerates dominated all media outlets, including television, radio, newspapers, magazines, music, publishing and film. In the year 2000, just six corporations dominated the U.S. media.
In addition, corporate media outlets in the U.S. are legally responsible to their shareholders to maximize profits.
Democracy Now! is funded entirely through contributions from listeners, viewers, and foundations. The show does not accept advertisers, corporate underwriting, or government funding. This allows them to maintain their independence.
Democracy Now! is broadcast on KSKQ Mondays - Fridays at 12 noon.