KSKQ is please to announce a special benefit performance of Neil Simon's The Dinner Party at the Randall Theater. There will also be a silent auction. The performance is on June 23 at 7 pm. Tickets are $20 and can be obtained by calling 541-482-3999 or online at KSKQ.org. When ordering online please add a note indicating that the donation is for Randall tickets.
The Church Of Rock radio show originally started on Halloween of 1999, on a 100,000 watt radio station in Peoria, Illinois. The show is produced & hosted by the self ordained high-priest of rock n roll, Reverend Derek Moody. The good Reverent presents deep album cuts, rare songs, unreleased tunes mixed in with sporadic interviews with members of the International rock n roll community. A special segment of every show is dedicated to local southern Oregon artists and their music.
The Church Of Rock offers moments of comedy, self reflection and the spirit of rock at it's finest & most pure. Reverend Derek Moody is a legal ordained non-denominational minister & has officiated in over 25 wedding ceremonies over the years. (He even performed one ceremony live, on the radio!). The Church of Rock has become a staple in many peoples lives in many states across America. The opportunity to be broadcasting from KSKQ, community radio, is a blessing and a pleasure.
Please give the show a listen. It's YOUR show.
Tune in Sunday nights from 7pm to 9pm; you will hear the best in all genres of rock n roll.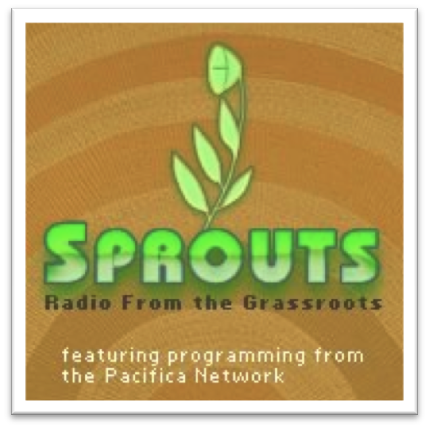 Sprouts is a weekly program that features local radio production and stories from many radio stations and local media groups worldwide. It is produced in collaboration with community radio stations and independent producers across the country.
Every week Sprouts broadcasts stories from local communities with national significance. The features are produced independently, but are generally tied by a common theme. Sprout's mission is to bring new voices to the airwaves, increase communication between this larger community of media producers of conscience, and encourage production collaboration across geographical distances via the Internet. The producers aim to bring unique voices from many individual parts of the country, joined together within the context of issues of national scope. They always welcome new members and provide support for to them via conference calls and other forms of communication. They seek diverse voices and viewpoints, new producers coming to the air, and the unique viewpoints from local areas.
The program is coordinated and distributed by Pacifica Radio and offered free of charge to all radio stations. For information, or if you would like to feature your work on Sprouts, contact Ursula Ruedenberg at This email address is being protected from spambots. You need JavaScript enabled to view it.
Sprouts is broadcast every Monday, 10-10:30 am.